Horace Andy review – king of the dancehall still in fine, energetic voice
Komedia, Brighton
The reggae veteran has some of his eerieness smoothed out in a brisk and businesslike set – but his vibrato-laden voice remains spellbinding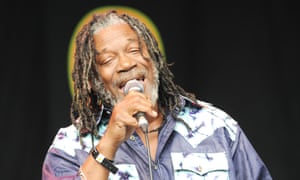 There is an irony in Horace Andy's present renown among British audiences stemming from his work with Massive Attack, who are now assumed to have been his patrons. For when the band approached him in the early 90s they were near unknowns audaciously pitching to a major name on the reggae scene – Andy was celebrated for his extraordinary voice, a series of outstanding records in the 1970s and early 80s and his influence on the dancehall genre.
Between the cuts collected on his 1972 album Skylarking and the remarkable work he recorded after moving to the US in 1977, culminating in the classic Dance Hall Style in 1983, Andy moved through diverse sounds and textures. His vocal style was not unique (he changed his surname to avoid comparisons with his cousin Justin Hinds), but his voice was – and remains so. High, smooth, soulful, with an inimitable fluttering vibrato, it is one of the most distinctive and satisfying in all pop.
Backed here by veteran Londoners Mafia & Fluxy, Andy doesn't range across those bygone textures. The sound settles nearest to that of his late 70s tunes, when digital tones gave roots productions a sheen prefiguring the dancehall style to come. Across a 16-song set, it is brisk, capable, businesslike. Thus the eeriness of Spying Glass, the spare, measured echoes of Money Money, and the thick atmosphere of Massive Attack's Hymn of the Big Wheel are diffused in favour of a more functional, danceable feel.
But there has seldom been such a thing as a definitive take for Andy, who has rerecorded songs over and again. What matters most is that the songs are as good as they are, and that it is he who sings them. At 66, there is nothing remotely lethargic about the man nicknamed Sleepy, jogging with knees up about the stage, sweat pouring off his black singlet as he puts everything into impassioned readings of Must Surrender and Cuss Cuss.
It would have been a treat indeed to have had a show that covered not only Andy's wonderful catalogue but also its stylistic variety. For an artist who rarely plays solo gigs, and crossed the Atlantic to perform with what amounts to an accomplished pickup group, that's too much to demand. Hearing him at all is a pleasure, especially in such fine voice.